Walt's Auto Service Plus is a family-owned business that is been operating since November 2002. We have been in the auto repair business for many years, and I stay active in the community through sports and the Chamber Of Commerce.
Walt Pursell needed the loving home provided by The Villages as a high school student in the 1980s.
Orphaned as a child, Pursell said he was shuffled among family members until he came to stay at the William Menninger Cottage with house parents Lynn and Ruth Huffman when he was in high school.
He raised his grades from C's and D's to A's and B's.
He became involved with drama and singing at Topeka Civic Theatre. After three years with the Huffmans, he graduated from Washburn Rural High School and left to attend The University of Kansas.
"I guess I'm kind of a poster child for The Villages," Pursell said.
The Villages is a nonprofit, state-licensed agency founded in 1964 by Dr. Karl Menninger that provides homes for abused, neglected or abandoned children.Hot Rod
During a childhood without much to call his own, kindness meant a lot to Pursell. So receiving a gift of furniture for his apartment at KU made a lasting impact.
Pursell, now the owner of Walt's Auto Service Plus, 2201 S.W. 10th, had that furniture in mind when he decided to help a current Villages teen. He told The Villages he would donate a 1995 Dodge Neon to a responsible student with excellent grades and high motivation.
On Thursday, Pursell turned over the Neon's keys to John, a 17-year-old resident nominated by house parents and social workers.
"It's not a fancy car, but it's a good, economical car," Pursell said.
Sylvia Crawford, executive director of The Villages, said Pursell's gift was special because many teens at the group homes don't receive gifts from anyone other than Villages employees.
"I think for the kids it means more," Crawford said. "When it comes from somebody out there, it's a whole new dimension."
Pursell worked and bought his own car in high school to find a measure of freedom from group living.
"We had an old car at The Villages that we had to share," he said, remembering "The Clunker."
His interests in mechanics also came full circle and developed into a career.
After attending KU, Pursell said he briefly returned to The Villages to work with his mentor, Herb Callison. But he left for a job at KPL, where he worked for nine years, and became fascinated with drag racing.
Pursell said he paid for his drag racing by doing mechanical work on his friends' cars.
After he was laid off from KPL, he began working full time as a mechanic from his home.
He spent nine years working from home before he took the leap and opened up his shop on S.W. 10th Street. As a husband and father to two children, now 6 and 7, Pursell said he needed a real business place that was insured in case of fire or other damage.
Now he repairs all of The Villages fleet vans that teens like John would rather avoid, as well as the personal cars of some Villages residents.
He even uses his singing background — when he records jingles for radio advertisements for his shop.
Erin Adamson can be reached at (785) 295-1186 or [email protected].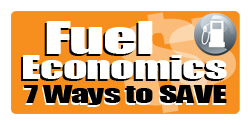 Walt's Auto Service PLUS
2201 SW 10th
Topeka, KS
785-233-3300
Monday thru Friday 7:30 - 5:00
At Walt's, we pride ourselves in giving the best possible service and a fair price.